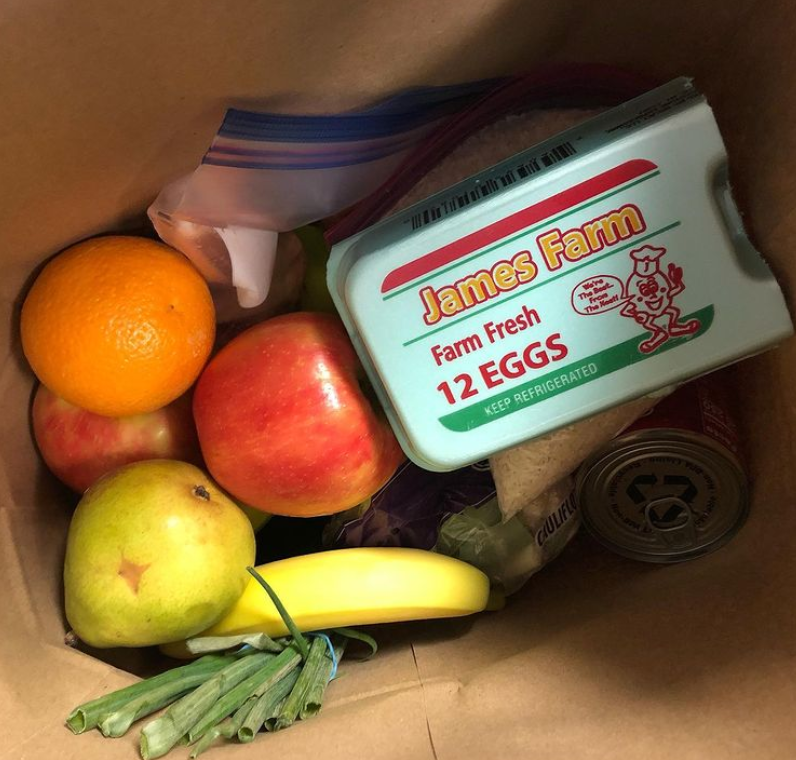 West Side Mutual Aid
grocery delivery to Chicago's West side
Contribute
---
Become a financial contributor.
Top financial contributors
Individuals
Sandra Kofler
$700 USD since Sep 2021
Lisa Cartellone
$500 USD since Dec 2022
Matt
$200 USD since Aug 2022
Robin Schirmer
$135.59 USD since Mar 2022
Michael Metzger
$125 USD since Jul 2022
Chris and Caroline Gagliardi. In honor of Matt Weyenberg
$100 USD since Sep 2022
Guest
$100 USD since Oct 2022
Britney
$70 USD since Feb 2022
Rachel
$55 USD since May 2022
Harrison S Riley
$50 USD since Sep 2021
West Side Mutual Aid is all of us
Our contributors
39
Thank you for supporting West Side Mutual Aid.
Contributions
---
Recurring Contributions
Amount contributed
$175.00 USD / month
Contributed to date
$350.00 USD
Budget
---
Transparent and open finances.
Total disbursed
$5,960.61 USD
Connect
---
Let's get the ball rolling!
News from West Side Mutual Aid
Updates on our activities and progress.
End of Year Update
2022 has been a year of abundance for West Side Mutual Aid! We continue to deliver groceries to over 150 families across Chicago's West Side every week, working to cultivate food sovereignty and autonomy in coordination with the Chicagoland...
Read more
We have each other's backs!
Since West Side Mutual Aid began in March of 2020, there have been countless iterations of structure, process and personnel. However, don't be fooled, instead of feeling chaotic and disorganized, Mutual Aid's horizontal structure allows for...
Read more
About
---
Starting in March of 2020, there was a city-wide mutual aid coordination effort, and a few housemates in North Lawndale were asked to be point-people for their neighborhood.  The Covid-19 lockdown had just started and people were worried about each other. Close to 500,000 people in Chicago filed for unemployment in 2020, the majority of them were Black Chicagoans living on the South and West Sides. How would they get groceries? How would elderly neighbors get to the grocery store or pharmacy when they were so high risk? The group started getting requests from neighbors via a google survey, and also circulated a flyer for people to call and request help.  At the same time, lots of people signed up to help in their neighborhoods. But the friends in North Lawndale found there was much more need than there were volunteers. So they began collaborating with Austin, East Garfield Park, West Garfield Park, and the West Loop groups. The West Loop had an abundance of people who wanted to drive or donate, and they were asked to come and share their time and resources on the West Side.  
The group began packing bags of food for about 20 people in a church basement and having volunteers deliver it to neighbors. In those early weeks, the number of requests doubled every week, and the group had to be flexible and creative to meet everyone's needs (which was fine because there was really nothing else to do in March of 2020!) They created a GoFundMe and raised almost $8,000, which they used to buy bulk food for the grocery deliveries. This was when they began calling everyone each week to make sure they wanted a delivery - a practice that still continues over a year and a half later! The callers are by far some of the most behind the scenes people, but WSMA could not function without them. They disseminate important information to many of our seniors who don't use email or social media, and collect data and feedback from recipients to improve what Mutual Aid does!
This also began the long road to the problem of creating delivery routes! At first they were just using google maps and manually entering every address to create routes. This was extremely labor intensive and once the delivery list reached 80 people, it was no longer sustainable. That led the group to find Routific, who donated their software to streamline our delivery routes - a true game changer. Now a small group of absolutely HEROIC volunteers takes turns doing the weekly routing on Friday nights. Yep, they spend their Friday nights sweating over a computer, all for the sake of mutual aid! 
West Side Mutual Aid has known a few different homes over its lifespan. First it was at Emmaus House Catholic Worker in North Lawndale, but then they needed a bigger space and a friend at the Darst Center in Bridgeport let them use the kitchen space there. As the deliveries continued to grow, it didn't make a lot of sense to have drivers come down to Bridgeport, only to drive way back to the West side to deliver. So West Side Mutual Aid moved to St. Agatha's Church on Kedzie and Douglass Blvd, where they continue to distribute to this day. There was a brief intermission where deliveries were packed out of a warehouse up North, where a bunch of mutual aid groups were aggregating and delivering food. That collaboration was awesome for a while, but after the warehouse was no longer available, WSMA went back to trusty St. Agatha's. Shout out to Anthony at the church who is a huge help! The mutual aid collective still gathers food at Urban Canopy in Pilsen, but brings all the food back to St. Agatha's to meet the drivers and give them the deliveries. 
There are a lot of people involved in this mutual aid project. There are over 150 households, and something like 320 individuals, currently on the distribution list. There have been over 300 different households served since the beginning of WSMA. There are also members of mutual aid who make sure all the recipients get a call each week to verify they want delivery and take special requests. There are 106 past drivers on current record, but that number is probably much higher since they only started keeping track in June of 2020. 
Every Monday night, a group of volunteers meets via zoom to coordinate and make decisions for the week. This group is perpetually adjusting and adapting roles, structures, and responsibilities. The group shares decision-making and leadership responsibilities, so no one person is responsible for making WSMA run smoothly. This structure allows for the project to keep going even if someone needs to take a break or step down- or sometimes even move away!  
WSMA has also taken on a lot of side projects in its time. There have been free stores, special holiday meal give-aways, toy drives, back to school supply drives, one-on-one partnerships, and direct financial assistance. You can still donate to help with direct financial assistance on the Contribute page. That money goes towards requests for help with bills, rent, utilities, or other direct financial needs. 
Community Partners: Urban Canopy, 40Acres, One Lawndale, Chicago Community Jail Support, Emmaus House Catholic Worker, St. Agatha's, LoveFridge, DefundCPD, FoodNotBombs, HER Chicago, Old St. Patrick's Church, Stone Temple Baptist Church, The Darst Center, many other mutual aid groups in Chicago, and probably a few more partners that I am forgetting!  A big thank you to 40 Acres Market in Austin who have been donating those super cool blue insulated bags for such a long time.