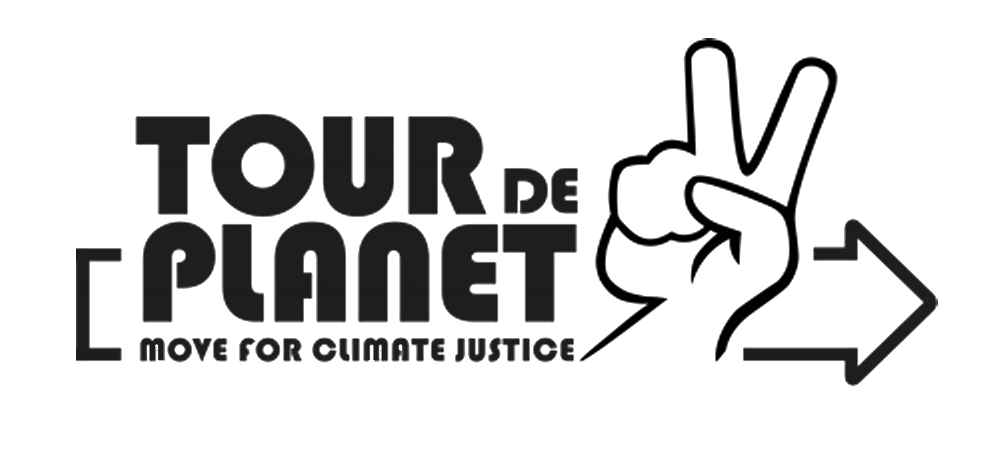 Tour de Planet
We collect CO2-neutral kilometers worldwide for climate justice in order to set a strong signal and show them on a map. So we create a network of people and their actions, dealing with climate change and its consequences in order to minimize them.
Contribute
---
Become a financial contributor.
Top financial contributors
Incognito
€20 EUR since Jul 2020
Incognito
€5 EUR since May 2020
Tour de Planet is all of us
Our contributors
7
Thank you for supporting Tour de Planet.
Budget
---
Transparent and open finances.
Refund of "Financial contribution to Tour de Planet"
Debit from Tour de Planet to Guest •
Financial contribution to Tour de Planet
Credit from Guest to Tour de Planet •
Connect
---
Let's get the ball rolling!
News from Tour de Planet
Updates on our activities and progress.
Launch of the DIGITAL TOUR DE PLANET
Hey people, we had many weeks of hard work behind us, fighting the consequences of Corona in our ranks. So we created the DIGITAL TOUR DE PLANET with great interviews on Youtube and amazing articles on our website - with themes like:
Read more
About
---
Tour de Planet 

The Tour de Planet is your chance to become part of the world's largest climate, peace and justice movement and to influence the negotiations at the 26th UN climate summit in Glasgow!


We want to get moving with the most diverse people worldwide and set an example as a community. Come along and join the movement!            


Everyone can join the Tour de Planet, no matter how old you are, no matter how fit you are, no matter how busy you are, no matter where you live. Grab your bike, scooter, horse, roller skates or put on your walking boots. We want to collect emission-free kilometres together. In a large group along fixed routes, or on your own route, alone or with friends & family. You decide which route you can and want to take. Every kilometre counts - start collecting!            



What can you expect?            

Networking:            
Encounters with people who feel as you do and who also want to improve the world. Meetings with various climate, peace and justice movements.            

Community:                
A travel community of people who seek happiness in contact with like-minded people, far away from possessions and consumption, who appreciate travelling together and cleanly in nature, and who share a great common goal: Climate justice, social justice and peace - Now!            


Learning from each other:            
Communicating the scientific knowledge about the climate crisis and facts about grievances in the world to people who do not yet know so much about it. Learning from other people participating in the Tour de Planet, and from people we meet along the way.            


Sustainability:        
Slow, emission-free travel in harmony with nature, with or without camping. Traveling with a sense of responsibility for each other, our world and our future.        



What exactly is the Tour de Planet?            


The Tour de Planet is a movement for climate justice, social justice and peace. As a moving movement of movements, it unites people from all continents and all existing climate and justice movements in one action. The Tour de Planet is a bicycle tour/hiking/walking ride/etc. over thousands of kilometres on all continents and aims to talk to people on the road about climate justice. We want to learn from different people and want to share the scientific knowledge about the climate crisis and injustice in the world through dialogue and various actions.            


The existing commitment of individual groups or projects for more climate justice, social justice and peace should be made visible and tangible. On the journey, we also want to visit places and projects that set a good example. Through this, we want to draw attention to alternative options for action and encourage new commitment. At the same time, however, we also want to show at which points intensive efforts and political decisions are still necessary and how we can influence them.        


The total of the kilometers collected worldwide will be handed over to the heads of government of the 193 countries involved at the 26th UN climate summit in Glasgow on November 9th. That is how we want to set an example and call for a policy that finally takes the scientific findings about the climate crisis seriously and acts accordingly.


On our map (map follows...) you can see different routes that end in Glasgow. If you are not from Europe, a capital city or significant place on your continent can be symbolic of Glasgow and be the destination of the journey. From 01 April 2020, different groups will travel to Glasgow/ a symbolic Glasgow and will pass through different cities along the routes. The groups will stop there, regenerate and be active. You can check the calendar (calendar to follow...) to see when and how long the Tour de Planet will be in each city and what activities are planned on site. There you can join a group, network with the people of the different movements and participate in actions. Along the way, you will also talk to local politicians in smaller towns and villages, draw people's attention to the climate crisis and the Tour de Planet, collect signatures and take photos. Furthermore, by participating, you will motivate others to travel slowly and climate-friendly in close contact with nature and in the company of interesting and influential people. You are also physically active.

The main route is difficult to reach for you? You cannot join the group at the times indicated, or you want to plan your own tour?                


Then use our map (map to follow...) to plan your own routes to enlarge the network. All the secondary routes can be connected to link up with Glasgow. You are responsible for your own route. We will give you a little guide to help you think about what you need to make your own Tour de Planet run smoothly.


On our website you will be able to find out more about the Tour de Planet and plan your tour from 01 April 2020. We would be happy if you join the Tour de Planet and help us to make the world a better place!