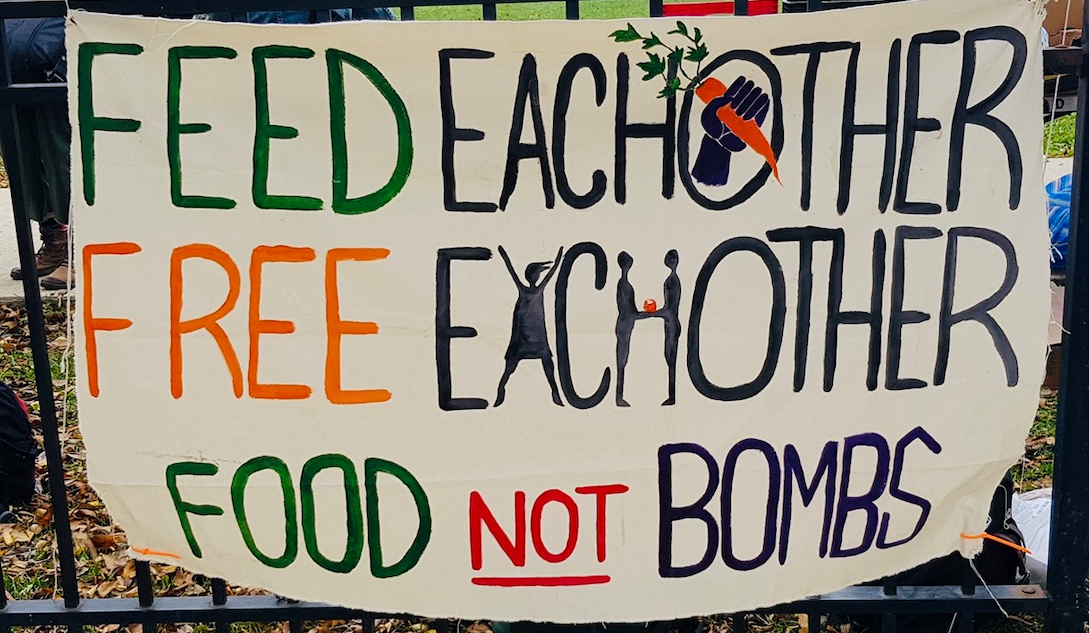 Rogers Park Food Not Bombs
Rogers Park Food Not Bombs is a collective that rescues food from the waste stream and gets it to folks who need it, no questions asked, while supporting local movements to combat oppression and inequity.
Contribute
---
Become a financial contributor.
Top financial contributors
Guest
$1,300 USD since Jun 2022
Jen G
$690.37 USD since Jun 2022
Guest
$650 USD since Jun 2022
Guest
$400 USD since Oct 2022
Incognito
$400 USD since May 2023
Emma
$390 USD since Jul 2022
Em G.
$325 USD since Jun 2022
Dan M
$250 USD since Dec 2022
Hannah Kardon
$225 USD since Sep 2022
Mark Harris and Christopher Lewis
$130 USD since Dec 2022
Heidi Massey
$100 USD since Jun 2022
Guest
$100 USD since Dec 2022
Matt
$100 USD since Feb 2023
About
---
Rogers Park Food Not Bombs distributes food, no questions asked, no IDs required, weekly in our Chicago neighborhood of Rogers Park. Check out our Facebook page for our current schedule!

Our focus is on diverting food from the waste stream to get it directly to folks who need it. The founding Food Not Bombs chapter was formed out of anti-nuclear weapons protests in Boston in 1980. Chapters now exist across the globe and highlight the inequities of a society that prioritizes war instead of caring for one another. Our chapter has been in Rogers Park in one form or another for over ten years. In addition to holding weekly distro events, we often collaborate with other collectives to support local movements. We work with local grocery stores, distributors, restaurants and markets to collect food that would otherwise go to waste and distribute it to the community, building relationships with local suppliers and neighbors in the process. 
Our focus is aligned with mutual aid rather than state or non-profit efforts. Mutual aid recognizes that the same state mechanisms that create resource scarcity cannot be used to heal it and works to build stronger communities based in solidarity. Rather than simply fill needs to survive oppressive conditions, we want to create flourishing communities! Mutual aid is intended to empower those participating in it, inviting collaboration and community organization. This is distinct from charity, which often moves wealth from the top down without being able to address the systems that create wealth and resource gaps. We know that capitalism creates a world in which food is scarce, and people are alienated from one another. At our core, we believe that mutual aid is a commitment to building joy and power by forming bonds of solidarity and care with our neighbors.
Donations to RPFNB are tax deductible, with thanks to our fiscal sponsor
Lucy Parsons Labs
(EIN 81-3046769).


If you don't have a debit or credit card, you can donate on
PayPal here.
You can also support us by ordering one of our super cool
RPFNB t-shirts
through Tee Mart, a local Black-owned business!
Share our
link tree
to spread the love!


El enfoque de Comida No Bombas es desviar la comida del flujo de la basura y darla a nuestra comunidad que la necesita. El primer grupo de Comida No Bombas se fundó desde una protesta contra armas nucleares en Boston en 1980. Ahora, los grupos de Comida No Bombas existen globalmente y muestran las desigualdades de una sociedad que prioriza la guerra en vez de cuidarse uno al otro. Nuestro grupo de Comida No Bombas ha existido en Rogers Park por más de 10 años. Además de distribuir comida semanalmente, frecuentemente colaboramos con otros colectivos para apoyar movimientos locales. Colaboramos con supermercados, restaurantes, distribuidores, y mercados locales para recoger comida que si no sería desperdiciada. La distribuimos a nuestra comunidad, y en el proceso, construimos relaciones con proveedores de comida y nuestros vecinos.

Nuestro enfoque está alineado con ayuda mutua en vez de ayuda del estado o de organizaciones sin ánimo de lucro o caridades. La ayuda mutua reconoce que las mismas fuerzas del estado que crean la escasez de recursos no pueden remediarla. En vez, la ayuda mutua trabaja para construir comunidades más fuertes basadas en solidaridad. Más bien que simplemente satisfacer las necesidades para sobrevivir en condiciones opresivas, queremos crear comunidades que puedan florecer! La ayuda mutua debe apoderar a quienes participan en ella, invitar colaboración, y organizar nuestra comunidad. Eso es diferente que la caridad, que en general mueve riqueza y recursos de arriba hacia abajo, pero no puede cambiar los sistemas que crean la brecha de riqueza y falta de recursos. Sabemos que el capitalismo crea un mundo en que la comida es escasa y la gente está aislada uno del otro. Creemos fuertemente que la ayuda mutua es un compromiso para crear alegría y construir poder mediante la formación de una red de solidaridad y cuidado con nuestros vecinos.

Donaciones a Comida no Bombas de Rogers Park son deducibles de impuestos, gracias a nuestro patrocinador fiscal–
Lucy Parsons Labs
(EIN 81-3046769).

Connect
---
Let's get the ball rolling!
News from Rogers Park Food Not Bombs
Updates on our activities and progress.
PO Box Rent and Maintenance
Food Not Bombs has created a monthly goal on our Open Collective titled "PO Box Rent and Maintenance" in the hopes that folks who care about both PO Bx and FNB can contribute to one fund and help both organizations! PO Box Collective is our...
Read more
Birthday Fundraiser!
Hello! My name is Jes and every year I raise money for my birthday, 12/24. This year I am excited to raise funds for Rogers Park Food Not Bombs! My goal is to reach at least $500. Can you please help me get there? What would $500 mean to Fo...
Read more
Published on December 1, 2022 by
RPFNB
Summer supply funding drive
With our new Open Collective site up and running, we are launching our Summer 2022 funding drive! RPFNB only functions with community support and we need supplies to continue to safely feed our community at weekly food distro events. In add...
Read more
Published on June 8, 2022 by
Jen G
Budget
---
Transparent and open finances.
Total disbursed
$2,703.31 USD