Community Update: Holiday Events
---
Happy Holidays, Love Wins family! My name is Carly Sorenson, my pronouns are she/her/hers, and I volunteer my time at the food pantry by writing blog posts and distributing food. Since it's been a long time since my last post, I thought I'd let you all know about some recent changes we've made and what we plan to do next.


First, I want to welcome Michael and Mauricio to the food pantry team! Michael supports us by receiving the food delivery early in the morning before distribution. Meanwhile, Mauricio helps our hard-working volunteer team with administrative tasks. He will mostly be working on special projects and events, like the recent Queens Cranksgiving food drive. Both Michael and Mauricio use he/him pronouns. We are delighted to have you both! 
Last weekend, on
November 21
, Love Wins Food Pantry worked with the Queens Cranksgiving bike group to buy Thanksgiving pantry items, such as cans of cranberry sauce and boxes of stuffing, for members of our partner organization, Colectivo Intercultural Trangrediendo (
CITGNY
). Tomorrow, on
November 24
, the food will be distributed to members of CITGNY. If you would like to volunteer at this distribution, please send an email to
lovewinsfoodpantry@gmail.com
.
Also on
November 24
, at 11:00 AM, Love Wins Food Pantry will give away prepared Thanksgiving meals at Friend's Tavern.
The Migrant Kitchen
will provide hot four-person meals to our neighbors who need this support in order to spend quality time with their families. No additional volunteers are needed for this event.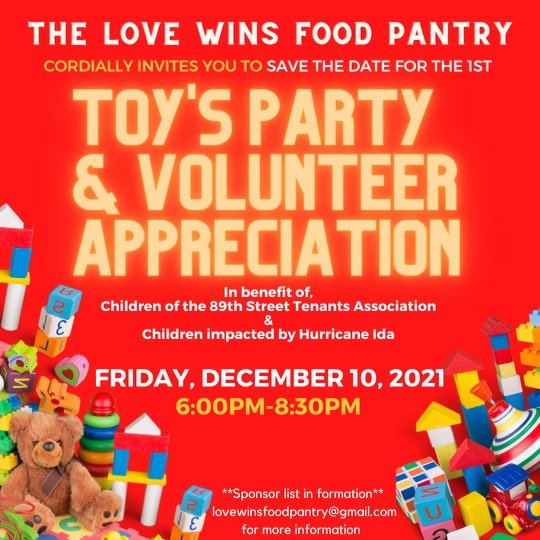 On the night of December 10, from 6:00 PM to 8:30 PM, you are invited to a Toys Party at Friends Tavern! This event is a toy drive to benefit families belonging to the 89th Street Tenants Association, as well local children who were affected by Hurricane Ida. We hope to collect around 200 toys at this event. We will also award Food Justice Warrior Grants to three community organizations that have been leaders in providing food to our communities during these difficult times: Centro Corona, the Elmhurst Community Fridge 2 and the Jackson Heights Community Fridge.


The Toys Party is also a volunteer appreciation event. There's no need for you to volunteer - just bring a brand-new, unwrapped toy to donate and your festive cheer. After a year of hard work, this Toys Party is a chance to enjoy some live entertainment and celebrate with your community. Even if you haven't been able to join us for a Friday or Saturday distribution in a while, I would love to see you at the party. You can RSVP to the event
here
. 
Finally, on
December 12
, the organization
Well Cloth'd
will help us distribute the toys we collected to the children. Well Cloth'd will donate clothing to the kids' families as well. This distribution may occur at the Queens Museum, but we still haven't figured out the exact time. If you would like to volunteer to distribute toys and clothes at this event, please send an email to
lovewinsfoodpantry@gmail.com
. 
As you can see, we have a lot of great events coming up! Even if you don't have time to volunteer or attend, I encourage you to spread the word about these events. For example, you can share our posts about the Toys Party on Instagram, or send a link to this blog post to your friends and family. They will appreciate a reminder that love (be it love for family, friends, partners, or community) always wins.