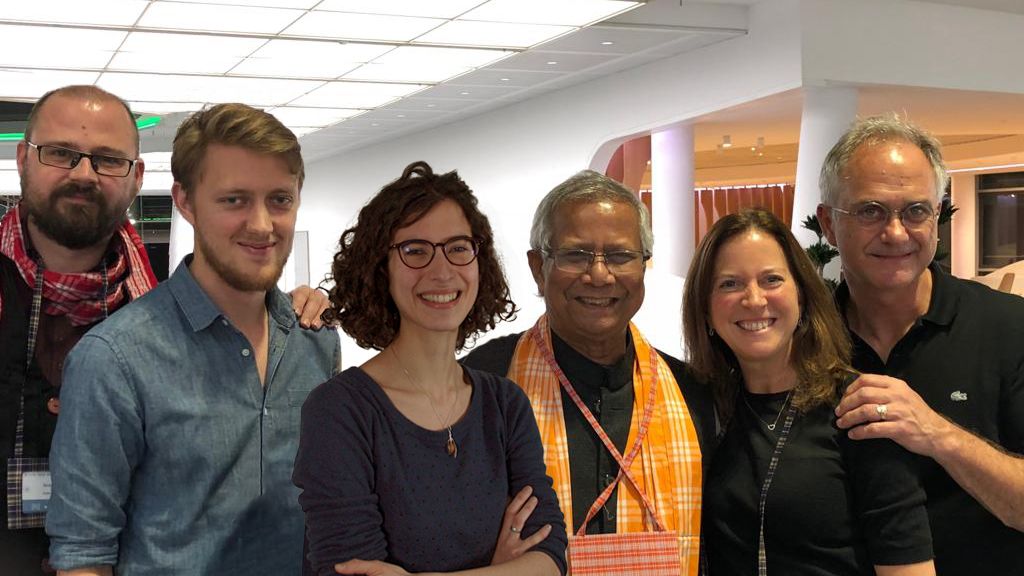 AZIMUT FOUNDATION
Creating worldwide visibility for social businesses through film production and story telling.
Contribute
---
Become a financial contributor.
Top financial contributors
AZIMUT FOUNDATION is all of us
Our contributors
30
Thank you for supporting AZIMUT FOUNDATION.
Budget
---
Transparent and open finances.
Total disbursed
€5,642.78 EUR
Connect
---
Let's get the ball rolling!
News from AZIMUT FOUNDATION
Updates on our activities and progress.
About
---
I'm Áine, Michel is my partner in life and work and we're the parents of three children, Venetia, Damien and Maëlle. We founded our company in 1991, we work for corporates and advertising agencies directing and producing communication films and commercials. 
In 2016, we made a decision to change, and to my surprise, it was after we'd been awarded a prestigious preferred supplier status for a global corporate. I thought we'd be celebrating good feelings of status quo and future guaranteed work. 
Instead, Michel announced that 
"All the work we do, basically helps people who are already very wealthy become even more wealthy". 
 
What sparked this realization was the retrospective exercise during the pitch process. After we'd listed our 25 years' past business achievements, the 40+ countries filmed in, the hundred plus clients and corporate films produced, all the international commercials and the countries around the world that they'd been broadcasted in, it was when Michel saw his CV and list of skills that he said, "we did all that! "To him it felt like there had been a missing dimension or purpose to our achievements. 
I had mixed feelings as I felt frustration that we'd worked hard to be where we are. Together we set out on a quest to find a solution on how to fill this empty void of disillusionment. 
Our quest was looking for answers to how could we keep doing what we do when 'Business as Usual' was clearly not an option.   
We don't know what the future holds, however, what we do know is that there are people in need everywhere. We reached out and offered our services to help a "doing good" organization that supported businesses following an economic model designed by Professor Yunus and produced 10 films about social businesses. We learned that there are people solving social and environmental problems through non-greed entrepreneurial and innovative solutions, and that on both a local and global scale, the potential of this selflessness business model is viewed by universities, corporates and governments around the world as a path towards achieving the UN 17 Sustainable Development Goals, agreed upon by 193 countries.
On our quest, it was the people who we'd set out to help that helped us become aware of the impact that we have on peoples' lives, in everything we do/buy or work on. We decided to change our business model to a social business.  
This wasn't easy, it was confusing and even conflicting with the way we'd always operated. However, once you see or experience for yourself, the impact that an idea combined with selflessness and business can have …. it is impressive and encourages you look forward to doing more!  
We shall highlight on insights from our professional and private past. Why was it that before Michel and I began working for Professor Muhammad Yunus we didn't know of his existence nor anything about his work in solving some of the worlds' most pressing problems?  Professor Yunus is one of only 7 people in the world to have received the Nobel Peace Prize, the United States Presidential Medal of Freedom and the United States Congressional Gold Medal. Our quest and the documentary are intertwined with questions we've asked ourselves and others. We will share why we feel that we're moving towards a more meaningful and joyful future. 
We will focus on social business rather than social entrepreneurship and in 3 sectors, YOUTH, CORPORATES and on SPORT/ STARS. The people behind these projects are both, individuals with no previous entrepreneurial experience and experienced professionals. Featured stories date from between 2009 to 2019.